Cittaslow Awards 2017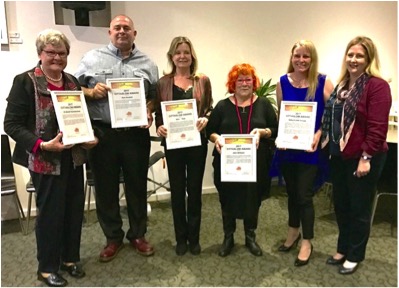 Jeanette Coombes, Paul Bushell, Karen Ross, Jane Williams, Sally Grundy and Rebekha Sharkie. Absent: Gareth Andrews and Olaf Hansen.

Thank you to SABA for continuing to combine the Cittaslow Awards with the SABA Customer Service Awards dinner. This year it was held in the Fleurieu Function Centre on Thursday 18 May. Mayo MP Rebekha Sharkie presented the certificates. The 2017 recipients were:
Gareth Andrew – Steam Exchange Brewery and Fleurieu Distillery – Service to Tourism, Traditional food crafting
Olaf Hansen – Service to Tourism, Local produce, Food and Wine
Jane Williams and Paul Bushell – Cittaslow Goolwa Farmers' Market – Service to Tourism, Local Producers
Karen Ross – At The Wharf – Service to Tourism, Local Produce, Music
Jeanette Coombes – Port Elliot Patch Workers – Service to traditional skills, the Arts, Cittaslow International General Assembly
Sally and Colin Grundy – Mundoo Island Station – Service to Tourism (especially international – Chinese), Local Producers, Environmental service, arts (Photography)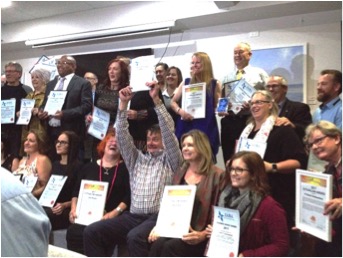 Combined SABA and Cittaslow Winners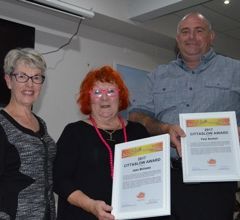 Farmers Market Award
- L-R Margaret Gardner, Jane Williams, Paul Bushell.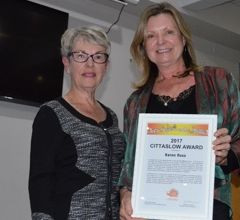 Award - Margaret Gardner and Karen Ross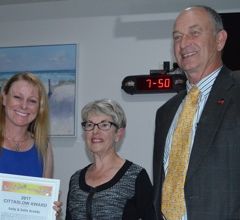 Award - Sally Grundy, Margaret Gardner, Colin Grundy