2016 Cittaslow Awards
Winners
Simon Ardill
Simon Ardill has been growing delicious organic fruit from his collection of heritage and rare fruit trees at Currency Creek for over 30 years. Simon is a legend. You can sometimes see him at Goolwa, Marion, Brighton, Willunga and Port Elliot markets selling fruit, trees, herbs and other plants he has propagated. Photo from Coastlines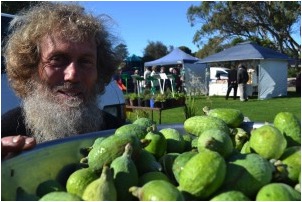 Debbie Drew and Mal Russell
Despite facing personal challenges themselves, Debbie and Mal are being recognised for their continued commitment to providing a helping hand to anyone in need… together they've now raised $144,000 for Variety. These two brilliant ladies have been an inspiration.
Patsy Greer
Patsy has been involved with the Port Elliot Show for quite a few years, first as Convenor of the Home Produce section and now the Cookery. She has been a 1st Vice President and member of the truly committed and dedicated Show Management Committee. We recognise her passion for promoting this great country show, that fosters core values and encourages the continuation of good home cooking and especially for parents, mothers and fathers, to share their skills with their families and others. Patsy has also been the leading lady for the Cittaslow Goolwa Food and Wine group's Seasonal Dinners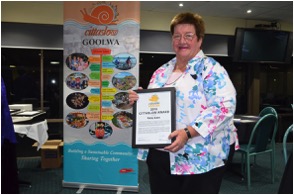 Jan Henderson
Bryan and Jan Henderson who were involved with the Goolwa Hotel Social Club, the RSL, Nashos, Probus and the Catholic Church, to name but a few. Together they worked on many events, including the Centenary Ball for the Source to Sea and the Ring Around the River – Telstra Town Tin Kettling event, the 150th Railway celebrations, the 180th Sturt celebrations and period dinner, the Goolwa Heritage and Living Legends dinner, over 10 years of The Tour Down Under activities that won many awards, and more recently for Cittaslow Goolwa. Unfortunately the untimely death of Bryan took a valued community member away from us, but Jan has continued to work for Goolwa. All her life, she has helped others. She is a past Mrs South Australia and raised much needed funds for what was then known as the Crippled Children's Association now Novita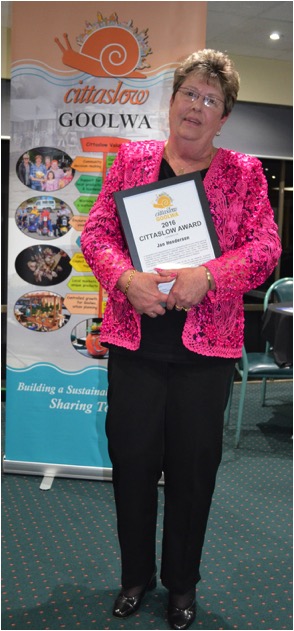 Goolwa Pipi Co.
With the assistance of the South Australia Research Development Institute, Primary Industries and Regions SA, the Fishery Research and Development Association and an innovation voucher from the SA Government, the Goolwa Pipi Company which is a group of independent pipi harvesters has found a way to package the shellfish so that its shelf life is extended and can now be exported to Asia... We particularly recognise the outstanding effort by all our fishing families like the Hoads and the extended fishing community as they put into practice their important sustainable harvesting methods and responsible and innovative production methods.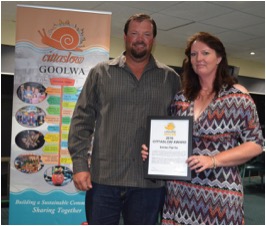 Debbie Smith
Debbie has become a regular Alex-FM voice. She has been active in the Neighbourhood Watch area and has embraced the activities associated with Cittaslow Goolwa. In particular, she has taken on a leading role with the Cittaslow Food and Wine Group which has been hosting 'How To" sessions. These have included sessions about bees and honey, olives, cheese-making. Something that Debbie is getting quite a reputation for is cooking carp. Her carp products have also been a huge success as part of platters served during the At The Wharf events at Signal Point. She encourages others to join in and have a go. She is a pretty mean photographer too.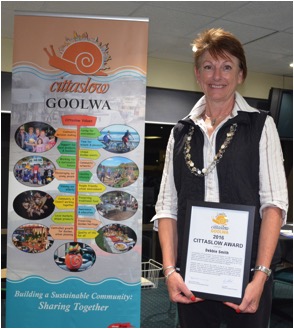 Jules Wagner and Michael Buddle
Jules has used her computer skills to establish the Goolwa-South Coast Facebookers group that provides an online community for all. The group shares information on a huge range of topics. It is a positive, supportive and interactive group for men and women of all ages. It is good old-fashioned neighbourly caring – online. Negativity is discouraged. It is Jules who sets the tone and keeps everyone motivated. She has also helped some of the Facebookers to meet together over an important cuppa.
Michael – and he is part of the team that makes it possible for Jules to be so effective within the community - is part of that silent group of supporters that works beside those 'at the pointy end'. One of the features of the work shown on the Goolwa South Coast Facebookers pages includes photography.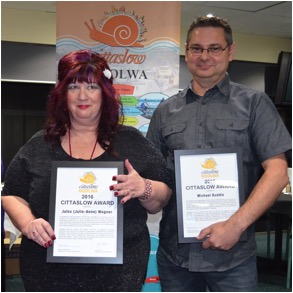 Libby Wall & Erica Harris
BOUQUETS & HUGE THANKS go to Libby Wall & Erica Harris who have worked tirelessly on the 5,000 Poppies project in our area. They have provided leadership, energy, inspiration and hard work over an extended period of time !! They have co-ordinated public poppy displays, including the decoration and installation of poppies on Goolwa's Rotunda! It was a magnificent contribution to the Anzac Day Centenary & to our local community. These two wonderful ladies have never been very far from the action within Goolwa's active arts community. They have brought colour and fun to all who meet them.