On 4 June 2011, Cittaslow Australasia was established in Yea, Victoria. With the successful accreditation of Yea which joined Goolwa in South Australia and Katoomba in the Blue Mountains NSW a meeting was held to establish the Australasian Cittaslow Network. It is necessary for a country or region to have three accredited towns before a national network can be established. Following the experience of the Scandinavian Citttaslow Network, it was agreed to call the organisation Cittaslow Australasian to ease the entry of single towns from New Zealand into this family of towns that strive to improve the quality of life for all who live, work or visit their precinct.
Cittaslow International designated Goolwa as the "lead town" for the establishment of the Australasian Cittaslow Network. One of the early tasks for the Australasian Cittaslow Network is the establishment of the Australian criteria based on the original Italian goals. There will be more details to come.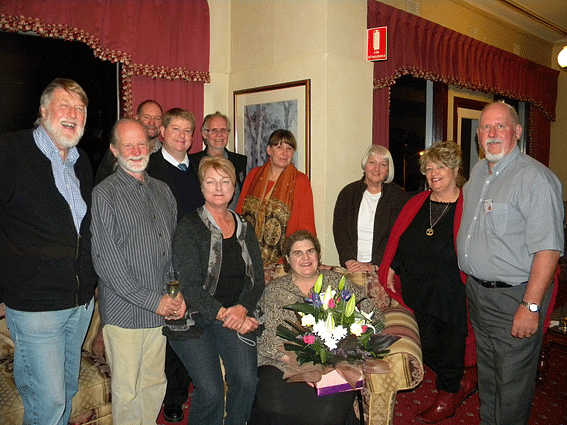 Edward Booth, Paul Payten, Mayor Alexandrina Kym McHugh, Mayor Blue Mountains Daniel Myles, Nigel Bell (back), Vanessa Mulhall, Sue Bell, Lyn Clark, Adele Anderson, Helen Jolly, John Clark
At the 2012 Annual Meeting of Cittaslow Australasia,held in Katoomba, Blue Mountains the following office bearers were elected.
President: Lyn Clark (Goolwa)
Vice President: Adele Anderson (Yea)
Secretary/Public Officer: John Clark (Goolwa)
Treasurer/Registrar: Paul Payten (Katoomba)
Committee members: Bec Bowles (Yea), Adam Dennis (Yea), Susan Bell (Katoomba), Nigel Bell (Katoomba), Edward Booth (Goolwa), Vanessa Mulhall (International Cittaslow General Assembly 2016 representative for Goolwa).