Goolwa Alexandrina in South Australia hosted the 10th Cittaslow International General Assembly, 9-12 May 2017.
Cittaslow International General Assembly
Innovate. Activate. Participate. Thrive.
9-12 May 2017
A combined Alexandrina Council and Cittaslow Goolwa committee organised this event on behalf of Cittaslow International.
The Assembly, the first to be held in the Southern Hemisphere, was a great success with over one hundred delegates from around the world, attending. In some ways this may have been the most important event ever held in Goolwa. It was clearly the most important international event. In addition to the formalities, delegates had the opportunity to explore all that Goolwa and the Fleurieu had to offer.
Cittaslow Goolwa was incredibly lucky to have the services of Leon Mead, a professional photographer and Cittaslow member, available to visually document assembly activities throughout the event. Other photographers also took photos of some events. Many of these photos have been featured in local media and on the Cittaslow Goolwa Facebook page. See the full program. Included are links to selected photos of highlights of the 2017 Cittaslow International Assembly.

Facebook: https://www.facebook.com/2017CittaslowAssembly/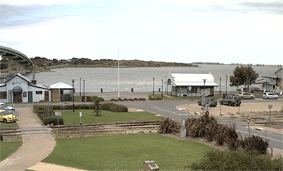 Bookmark this page to keep informed about our uniquely Australian program or watch our Facebook page.
What's happening today? View the Goolwa Wharf Webcam
COME TO GOOLWA.

This video was created to showcase Goolwa, the first Cittaslow in Australia and host for the 2017 Assembly. Funding was provided by the Alexandrina Council. Members of the Fleurieu Youth Advisory Committee worked with film maker Ollie Delvecchio to produce this showcase.
To help with your planning when you come to Goolwa for the 2017 Cittaslow International Assembly, you can download information booklets and apps from the Fleurieu Peninsula Tourism website.

New Regional Feature Dish!Goolwa PipiCo proudly harvests its catch from the pristine waters off the Coorong National Park. The pipis harvested from this amazing environment have a sweet nutty taste.Our Chef has captured both the essence of the wild Southern Sea's and the fresh flavours of Italy in this memorable and spectacular dish.www.thomasfarmskitchen.com.au/menu

Posted by Thomas Farms Kitchen on Wednesday, November 18, 2015
---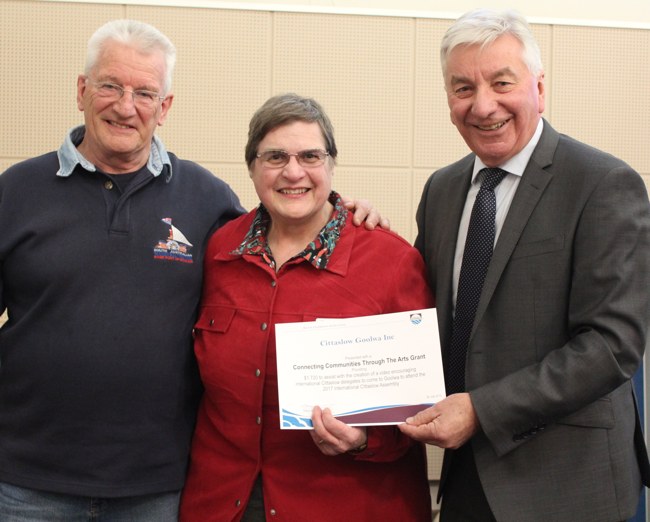 Councillor Jim Davis, Cittaslow Goolwa Assembly Coordinator Lyn Clark and Alexandrina Mayor Keith Parkes at the Grant Presentation Ceremony.
Follow the 2017 Cittaslow International General Assembly on Facebook
The next Cittaslow International Assembly will be held in Mirande (France), on Saturday 23 June 2018