Cittaslow Food and Wine Group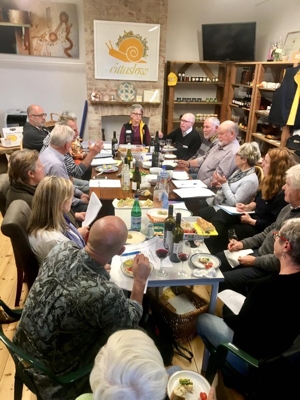 The Cittaslow Food and Wine group has gathered together local chefs, restaurant owners, produce growers, vintners, wineries, food artisans and those who just enjoy good food and beverages. They meet regularly to develop ideas to promote understanding of Cittaslow and Slow Food principles, raise funds for Cittaslow projects and develop cooperative efforts between those involved in the food and wine business.
The Food and Wine group meets at 6 00 pm on the last Monday of each month (other than December) at the Cittaslow Corner Lot 1 Cadell Street. All members are welcome.

Our next events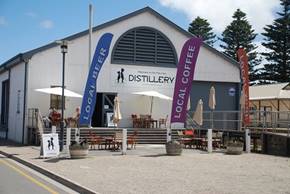 How 2 make whisky and gin?
Well now is your chance.
Join us at the Fleurieu Distillery right here in Goolwa.
Gareth Andrews will take us through the finer points and give us a look behind what goes into making award winning spirits.
Gareth began the Steam Exchange Brewery in 2004 and was one of only three craft breweries in South Australia at the time.
The success of the business has allowed him to eventually become a distillery, which had been a long-term goal. The businesses focus is now 90 per cent whisky, 5 per cent gin and five per cent beer.
When: Wednesday 9th May at 4pm
Where: Fleurieu Distillery on the Wharf
Following a tour and talk we will have an opportunity to try some of Gareth's products at a discounted price.
This is a free event. Numbers are definitely limited.
Please book by email to Debbie Smith - famsmith@internode.on.net
More details are here
Cittaslow Community Team 9th May
Come and be part of the Cittaslow Community Clean Up Team on Wednesday 9th May at 9am in the carpark next to Landcare over the bridge on Hindmarsh Island.

Last time we collected 13 bags of rubbish – let's help Clean Up Goolwa.
Gear is provided but wear sturdy shoes and BYO water.
2 hours of activity will build up a thirst for the How2 session at The Distillery at 4pm.
---
At the Wharf
Cittaslow Goolwa conducts 'At the Wharf' events on Friday evenings from 5.00 to 8.00 pm during Summer and Autumn on the deck and lawns of Signal Point. The next series is scheduled for the following dates: Sunday 30 September 1.30 to 5 pm, Friday 26 October 5 pm to 8 pm, Friday 30 November 5 pm to 8 pm, Friday 28 December 5 pm to 8 pm, Friday 25 January 2019 5 pm to 8 pm, Friday 22 February 2019 5 pm to 8 pm and Sunday 10 March 1.30 pm to 5.00 pm (in conjunction with the Adelaide Festival Fringe).
Local wine from Bleasdale and Shaw Family will be on sale by the bottle and by the glass with the most delicious local food and a popular local band to provide music for the event. You can bring a chair and table, maybe a platter or a picnic if you wish, and your dancing shoes for a fun event but no BYO Alcohol to comply with our licence arrangements.
Keep watching this page and At The Wharf on facebook for details of dates.
---
Upcoming Food and Wine Group Gatherings:
Where: Cittaslow Community Garden, Kessell Road Goolwa. Commencing at 6.00 pm, last Monday of each month January to November.
When: April 30, 2018 at 6.00 pm
Upcoming gatherings:
May 28, 2018, June 25, 2018, July 30, 2018, August 27, 2018, September 24, 2018, October 29, 2018 and November 26, 2018.
Location: Cittaslow Corner on the corner of Goolwa Terrace and Cadell Street.
Everyone welcome. Please bring a small plate or bottle to share.
Minutes of Food and Wine Gatherings:
For more information, check this site often or, if you haven't already done so, take the plunge and become a member of Cittaslow Goolwa. The cost is minimal, but the benefits (including discounted entrance fees to Cittaslow Goolwa events) are substantial.
---
How To Recycle
Cittaslow Goolwa has a strong commitment to recycling. Recent How To sessions focussed on this and were conducted by Tess Sapia, Project and Education Officer with the Fleurieu Regional Waste Authority (FRWA). The sessions were held at Cittaslow Corner and the Goolwa Community Garden. Tess's presentations were well received and provoked many questions. Topics covered in the sessions included the benefits of recycling and composting, what happens to your waste, recycling & organics after it leaves the kerb, Material Recycling Facilities, landfills, composting facilities, and much more.
The recent introduction of fortnightly collection of recyclables and green organics in the Alexandrina Council is being watched closely and will be surveyed in the near future to assess it's popularity. Those who attended the Cittaslow sessions were very appreciative of this initiative and the detailed information that was provided by Tess. Unfortunately, there is still confusion in the community over what goes in what bin but these sessions will go a long way to clarify this. If there is sufficient interest the sessions can be repeated.
FRWA information publications are available for download.