Cittaslow Food and Wine Group
The Cittaslow Food and Wine group has gathered together local chefs, restaurant owners, produce growers, vintners, wineries, food artisans and users and well as those who enjoy good food and beverages. They meet regularly to develop ideas to promote understanding of Cittaslow and Slow Food principles, raise funds for Cittaslow projects and develop cooperative efforts between those involved in the food and wine business.
Our next events
CITTASLOW WINTER SEASONAL DINNER
AQUACAF 94 Barrage Road, Goolwa South
Wednesday 26th July 2017
All welcome - full details are here.
Snail Trail Felting Workshop?
On Saturday 29th April, local facilitator Jenny Gunson took a select group of Cittaslow Goolwa members and their guests through a fun felting workshop. The day ended with those attending producing colourful felt creations, including 3D Cittaslow snails, for display at the 2017 Cittaslow International Assembly at Goolwa. A further felt workshop is planned for September this year. If you are interested, please send your contact details to Debbie Smith at famsmith@internode.on.net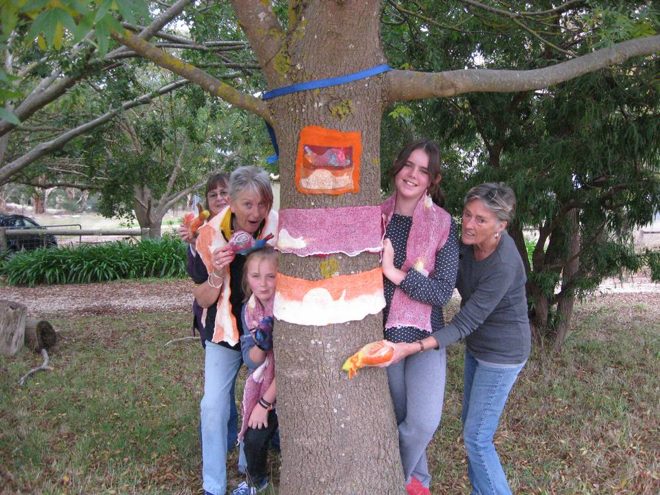 At the Wharf
The Cittaslow Goolwa Food and Wine Group regularly presents At the Wharf, held from 5.00 to 800pm on the last Friday of the month on the Signal Point Gallery Deck. Local wine is on sale by the bottle and by the glass with local food vans on site backed up by top local dance bands.
The 2016-7 season has concluded but At The Wharf will be back bigger than ever in late 2017.
---
Upcoming Food and Wine Group Gatherings:
Where: Cittaslow Centre, corner of Goolwa Terrace and Cadell Street Goolwa. Commencing at 6.00 pm, last Monday of each month January to November.
When: June 26th at 6.00 pm.
Followed by: July 31st, August, 28th, September 25th, October 30th and November 27th 6.00 pm
Location: Cittaslow Corner on the corner of Goolwa Terrace and Cadell Street.
Everyone welcome. Please bring a small plate or bottle to share.
For more information, contact:
Ken Smith kgsmith27@internode.on.net 0478 296 359 or
Debbie Smith famsmith@internode.on.net or 0417 843 946
For more information, check this site often or, if you haven't already done so, take the plunge and become a member of Cittaslow Goolwa. The cost is minimal, but the benefits (including discounted entrance fees to Cittaslow Goolwa events) are substantial.