Smoke Off 2016
The 2016 Cittaslow Goolwa Smoke Off was held on Sunday 6 November 2016
Sunday 6th November, what a marvellous day at Goolwa! Many highlights but a major attraction was the 8th annual Goolwa Smoke-Off. Nine teams of aspiring chefs worked long and hard at slow-cooking a ham or pork ribs even crocodile!! From the opening at 11.00 am until late in the day around a thousand people, mainly locals but plenty from the suburbs and further afield, enjoyed all the fun at the Garden of Honour.
Cittaslow Goolwa, the organisers of the event, are committed to a relaxed, laid-back lifestyle that works at making Goolwa the best that it can be for residents, for local businesses and for visitors – is there a better way than enjoying a highly entertaining event like the Smoke Off!
To top it off, the weather could not have been better. Bright sunshine, twenty plus degrees, just a zephyr of breeze and no rain, not even the tiniest cloud in the sky.
While the food was smoking away, those present sampled the marvellous wines – Langhorne Creek's finest with the best of Shaw Family Vintners and Minko also on show. Food? Of course – Cittaslow sold out of their smoked ham sliders (with mustards and horseradish from Newman's at Langhorne Creek), the famous Bombora pipi bike attracted a large crowd, while all-natural ice cream, milk shakes, Alexandrina Cheese, Matchett products, the CFS Sausage Sizzle and many more were very popular. In amongst it all the Mactones provided their great party music which even provoked a smattering of dancing late into the afternoon.
Judges for the best smoked ham, best food in the open category and the best themed site had their work cut out to arrive at the winners given the quality of the work from those competing.
Eventually the winners were announced:
Best Ham – Roadkill Smallgoods,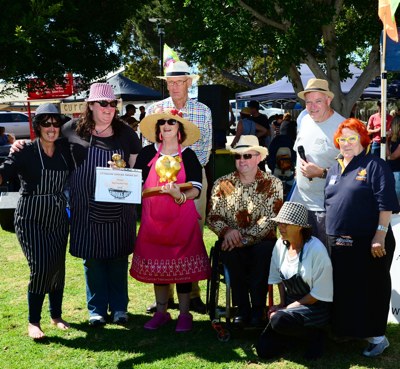 Best Other - Kennos Kettles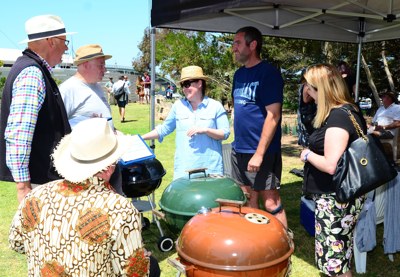 Spaced out on Wentworth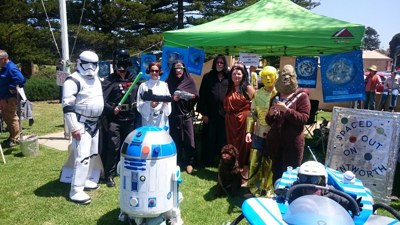 The Smoke Off will benefit the Currency Creek CFS, the Goolwa RSL and Cittaslow Goolwa and promises to be back bigger and even better in 2017.
Check out Smoke Off Goolwa on facebook to find out more.
2016 GOOLWA SMOKE OFF WINNERS.
Ham category
1.Roadkill Smallgoods
2. RSL
3. SA BBQ Wood
4. Crocodile Mundoo & Co.
Other category
1. Kenno's Kettles
2. SA BBQ Wood
Site category
1. Spaced Out on Wentworth
2. Roadkill Smallgoods
3. Crocodile Mundoo & Co.
Prize winners in the raffle were
Great Outdoor Cooker BBQ from Goolwa Tourism 5214 - Christine Putland
6 Pack of Ballast Stone wines - Ken Smith
6 Pack of Langhorne Creek wines - John Hansen
Aquacaf dinner voucher - P G Berry
Bombora@Goolwa Beach dinner voucher - Y Young
Cafe Lime voucher - Peter Owen
Hectors on the Wharf voucher - G O'Driscoll
Rankines at the Whistle Stop voucher - Kathryn Jones
In addition, individual One Week vouchers from F.I.T. Health & Fitness Centre Goolwa were won by the following: Jane Williams, N Wilson, David Baker, Sam Rankine, Juliette and Deb from the Australasian, Sam Egan, Geoff R, Tony, Kaye and Linda
Read more about previous Smoke Off Events
View the Smoke Off Winners for 2015 and a report on the full event here.