Goolwa's Journey to Cittaslow Accreditation
HISTORY TIMELINE
November 2004 Lyn Clark completed a Feasibility Study on behalf of the
Southern Alexandrina Business Association
August 2005 SABA hosted a public meeting held in the Alexandrina Community Council Chamber. The Goolwa Cittaslow Working Party was formed with Lyn Clark as Convenor
September 2005 the Alexandrina Council voted to support the Cittaslow process
October 2005 the first public Cittaslow information stand was held as part of
"Goolwa Alive"
Workshops and meetings were held regularly to work through the self-assessment
process
September 2006 a formal application from Alexandrina Council on behalf of Goolwa was
handed to the Italian Consul by Mayor Kym McHugh
October 2006 the first Cittaslow Expo was held as part of "Goolwa Alive"
February 2007 Goolwa was declared the Australian Cittaslow network lead town
March 2007 the International Cittaslow Delegation visited Goolwa [and accepted
Goolwa as the first Australian Cittaslow]
2008 Cittaslow Goolwa Incorporated was established
2017 - Opening of Cittaslow Corner
A Goolwa Cittaslow Working Party, made up of people from the Goolwa community plus some councillors and advisors completed the self-assessment phase and then submitted a formal application for recognition, to Italy, courtesy of the Italian Consul to South Australia. Support and translation facilities were provided by the Italian Chamber of Commerce and Industry in Adelaide. Click here for details of the formal handover ceremony.We satisfied the minimum score of 50% for each section of the goals to reach the first stage of acceptance (criteria). A complete set of the application, support documentation and DVD was presented to the Goolwa Library.
Members of the International Cittaslow committee visited Goolwa in March 2007. Their visit coincided with the South Australian Wooden Boat and Music Festival which is held every two years in Goolwa. Goolwa became the first non-European town to be accepted as a member of the international network of towns where quality of life is important.
Click here for information about the accreditation visit.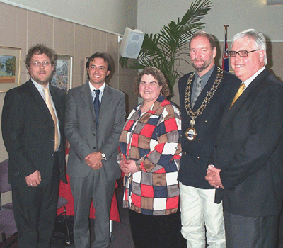 Cittaslow Goolwa became an incorporated body and is now implementing a variety of programs to improve life for all who live in, work in and visit Goolwa.
Mr Teodoro Spiniello, Secretary General, Italian Chamber of Commerce and Industry, Adelaide, Dr Simone De Santi, Italian Consul to South Australia, Lyn Clark, Convenor, Goolwa Cittaslow Working Party, Mr Kym McHugh, Mayor, Alexandrina Council and Mr Robert Berton, President, Italian Chamber of Commerce and Industry, Adelaide at the formal handover of Goolwa's application for recognition and membership of Cittaslow on 4 September 2006