Cittaslow Goolwa is an incorporated body which is administered by a Management Team which meets monthly. The meetings are open to all members. Special interest groups operate under the 'umbrella' of Cittaslow Goolwa and have their own team of volunteer organisers who plan their own management, activities and fundraising when needed.
Our PATRON is Alexandrina Mayor, Mr Keith Parkes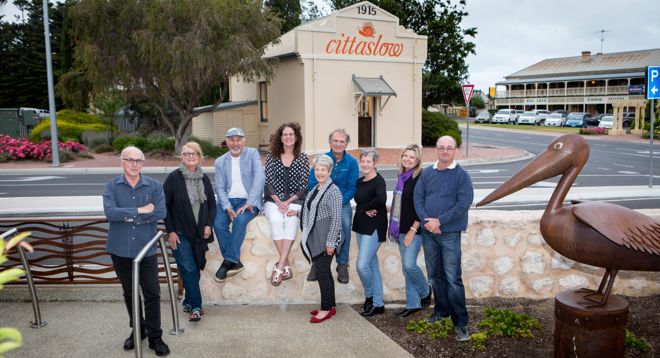 L-R is Ken Smith, Vanessa Mulhall, Tony Trimboli, Tracy Parkes, Margaret Gardner (President), Scott Woodsmith, Christine Putland (Secretary), Karen Ross and Marty Alsford.
Absent: Edward Booth (Vice-president) and Julie Low (Treasurer).
MANAGEMENT TEAM
PRESIDENT: Margaret Gardner
VICE PRESIDENT: Vacant
SECRETARY/PUBLIC OFFICER: Christine Putland
TREASURER/REGISTRAR: Julie Low
ASSISTANT TREASURER: Tracy Parkes
COMMITTEE MEMBERS: Scott Woodsmith, Ken Smith, Vanessa Mulhall (school liaison), Tony Trimboli, Karen Ross, Jane Williams, Marty Alsford and Angela Nesci.
Each Special Interest Group is represented on the Management Team.
Currently they include:
Food and Wine Group: Scott Woodsmith
Cittaslow Community Garden: Noel Leahy and Lyn Mateer
Smoke Off: Scott Woodsmith
Food Forest: Marty Alsford
Environment: Angel Nesci
Education: Vanessa Mulhall
At The Wharf: Karen Ross
Publicity: Ken Smith
Minutes of Management Meetings
The Management Team meets on the first Thursday of each month (except January) at 7pm at Cittaslow Corner, the corner of Cadell Street and Goolwa Terrace, Goolwa. Anyone is welcome to attend.
The Food and Wine group meets at 6 00 pm on the last Monday of each month (other than December) at the Cittaslow Corner Lot 1 Cadell Street. All members are welcome.
The Food and Wine group also hosts 'How To' cooking and use of produce sessions, Seasonal Dinners and other social functions from time to time. Keep an eye on the Calendar for the coming events.
The Cittaslow Community Garden is open to those who lease beds at any time, however, members meet together each Wednesday morning. The Community Gardeners also host special activities, guest speakers and open days which will be listed on the Cittaslow Goolwa Calendar.
All written communication should be directed to:
PO Box 2539, Goolwa SA 5214
Enquiries can be directed to the President.
Email: president@cittaslowgoolwa.com.au
Telephone: (08) 8555 2143 (International: +61 8 8555 2143)
Cittaslow Corner, located on the corner of Cadell Street and Goolwa Terrace, contains a large collection of information about Cittaslow activities, together with a wide variety of local products for sale to the public. The Corner is open on hursday to Monday between the ours of 11 am to 3 pm.

The registered office for Cittaslow Goolwa Inc is 33 Cadell Street, Goolwa SA 5214.