At The Fringe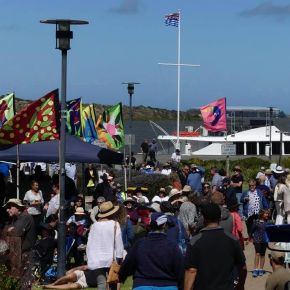 The day started at from 9am in Jeralde Park with the Cittaslow Goolwa Farmers Market. The market featured fresh local produce with plenty of hot food plus local buskers Railroad - Rob and Di - providing the music. From 10.30am a collection of top performers from the Adelaide Fringe entertained the crowd through to 1.30pm.
This was followed by the final At The Wharf event for this season on the Signal Point deck and lawns. Highlight of the afternoon was the exciting band Gumbo Ya Ya. They were scheduled to play from 2 until 5pm but the large crowd would just not let them go! The mix of brass, keyboards, guitar and a great rhythm section pumping through an excellent sound system added to a collection of favourites from the Van Morrison songbook with songs by the Stones, the Band and many others was irresistible.
During a break in the music Cittaslow conducted a Silent Auction & Raffle with money raised going to the KI Wildlife Park & Goolwa CFS.
As always At The Wharf there was plenty of delicious food from local providers including the popular Cittaslow Paella, wine from Langhorne Creek and Currency Creek plus beer and soft drinks.
Cittaslow Goolwa's At The Wharf will return on the October long weekend.