At The Wharf February 23rd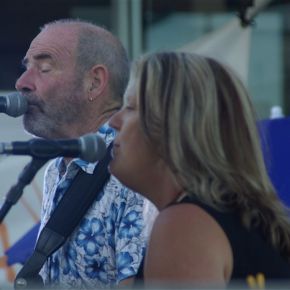 The latest Cittaslow Goolwa At the Wharf event saw a big crowd ignoring the sultry weeks end to gather at the Signal Point for a great night of food, wine and music. A special attraction was steaming hot paella freshly prepared and ready to go! Suzi and the Jetz, with Matt Ellers, were on fire and the packed dance floor would not let them leave!
As is usual with At The Wharf, the crowd enjoyed the variety of fine local food and wine although some took up the invitation to bring their own food and seating. Of course BYO alcohol is not permitted.
Next At The Wharf will be very special. It will be part of the Fringe in Goolwa Weekend with a long list of great attractions over the March long weekend from Friday night through to Sunday afternoon when special guests the Chris Finnen Band will take the stage at Signal Point. On that day, At The Wharf will happen from 1.30 to 5.30 with the usual mix of great local food, wine (and beer, soft drinks etc) and music.