AT THE WHARF FRIDAY 24 NOVEMBER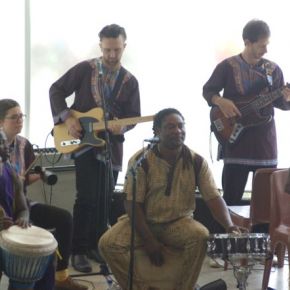 The threatened cold wintry night, complete with thunder storms and the like, didn't eventuate to spoil the fun At The Wharf on the Signal Point deck. A good crowd enjoyed the music of Afro-Australian rhythm band Damushi, fine local wine and marvellous local food from the Hungry Caterpillar and the Beach House Cafe.
At The Wharf is a series of monthly events presented from 5 to 8 pm by Cittaslow Goolwa on the last Friday of each month from October to March. Damushi were special guests last Friday night replacing for that night only the various local bands that usually take the stage At The Wharf.
The events are designed to, aside from creating a lot of enjoyment, support local musicians and food and wine vendors from the Fleurieu. This is in keeping with the Cittaslow principles that try to make Goolwa the best place that it can possibly be for residents and visitors alike.
Chairs, tables and umbrellas are provided and there is plenty of room on the lawn for those that choose to bring their own or maybe just a blanket.
Some people bring snacks or even picnics and are welcome to do so. However there is a strict rule against BYO alcohol to comply with licensing regulations.
Next dates for At The Wharf? Friday December 29th and January 26th which is Australia Day.