CITTASLOW CELEBRATIONS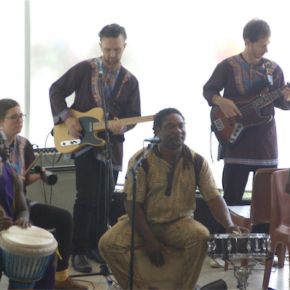 Sunday March 12th, one of the biggest days ever at Goolwa, celebrated the tenth anniversary of Cittaslow Goolwa.
The Signal Point lower level and deck were packed all afternoon with people wanting to be part of the celebrations. Many in the crowd gained vantage points on the Signal Point upper level as well. Damushi, a powerful afro band, played a mix of regae and African beat music to set the scene. This dynamic seven piece group from the Adelaide Festival Fringe proved irresistible and had the dance floor filled from the start.
The crowd of over 600 enjoyed the performance, and the opportunity to avoid the inclement weather. Some chose to bring a picnic lunch, while many tucked into a wide variety of food including a tasty range of asian favourites (including pad thai, curry puffs and many more), Arkie's well known bratwurst rolls and other spicy sausages and, of course, Goolwa's iconic pippis courtesy of Bombora. A variety of fine wines from Currency Creek and Langhorne Creek, beer and soft drinks were also well received.
A giant birthday cake, consisting of hundreds of colourful and tempting cupcakes and muffins, complete with the Cittaslow snail symbol, was then rolled out for those present to share.
The formalities were kept to a minimum in this highly enjoyable day. Lyn and John Clark, who were so instrumental in Goolwa becoming part of Cittaslow and the increasing success of this arrangement since the start, were awarded with Life Membership of Cittaslow Goolwa by President Margaret Gardner.
It was an absolutely marvellous event, fully enjoyed by those present. The relaxing atmosphere, good company and, on top of it all, the sheer enjoyment of the day made it a fitting recognition of the role that Cittaslow has played, and will continue to play in the future, in life at Goolwa.
On March 12th 2007, Goolwa was accredited as the first Cittaslow (slow town) in Australia. Goolwa is part of the international Cittaslow network that aims to improve the quality of life for all residents, business operators and visitors to our region. As part of this philosophy, Cittaslow Goolwa runs many events throughout the year including At The Wharf, a fun event that is held on the last Friday of the month at the Goolwa wharf precinct. At The Wharf involves local food and wine supported by a popular local band. Next event is on Friday 31st of March. Details on www.cittaslowgoolwa.com.au or at the wharf on facebook.