Cittaslow Goolwa Degustation Dinner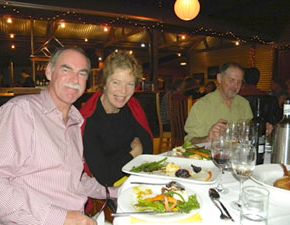 On Saturday 13 September 2008 Currency Creek Winery hosted the inaugural Cittaslow Degustation Dinner. The eight course menu comprised of local food was matched with a range of stunning wines from over six local wineries. Multi award winning chef Michael Duchow had recently returned from the Cittaslow International meeting in Orvieto, Italy in time to prepare this exciting menu, using a wide range of local produce from Coorong mullet to Fleurieu prime kid. Live entertainment was provided by Nicky Ross and bus transfers were available from Goolwa Bus and Coach making travel a relaxing and enjoyable activity. This was a great chance to support a great new event and find out what Cittaslow is all about.
This history-making event was sold out weeks before the date and raised substantial funds for Cittaslow activities. These activities include the Community Garden and the Cittaslow Wine Series necktags plus other promotional materials.
On 12 September 2009, we hosted our second dinner - A Feast in Season. We enjoyed 26 food tastes served in 4 courses. Again, local producers supported this exciting taste sensation. We thank all the suppliers who contributed to such a great night.
Companies Supporting the Cittaslow Degustation Dinners:
Seasonal dinners are coordinated by the Food and Wine group. In July 2014, the winter dinner was held at the Aquacaf in Goolwa. Our guest speaker described the activities at the 2014 World Cittaslow Assembly in The Netherlands.