Cittaslow Members Get Together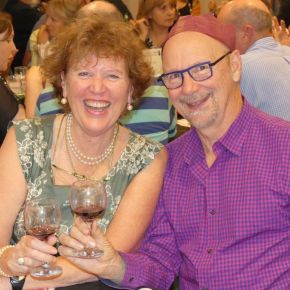 Cittaslow Goolwa Members, their adult family members, friends and neighbours gathered at the South Lakes Golf Club on Tuesday 5th December for a very enjoyable night out and to celebrate the end of a busy year in the run-up to Christmas 2017.
The 70 people present thoroughly enjoyed the fine food at the Golf Club making their choices from an exceptional menu that featured chicken, beef, pork, Atlantic Salmon, squid, Barramundi and much much more!
Deserts – Chocolate Mud Cake, Brandy Snap Basket with Crème Patisserie and fresh fruit, Sherry Fruit Trifle, Tiramisu Gateau were just a few of the many sweet delights on offer.
Evening organiser Patsy Greer presented the door prize to a smiling Noel Leahy and, on behalf of those present, thanked the very efficient and skilled Golf Club dining room staff.
In bringing a very enjoyable evening to a close, President Margaret Gardner thanked all present for their ongoing support of Cittaslow Goolwa and wished everybody a merry, merry Christmas.