Cittaslow Tomato Passata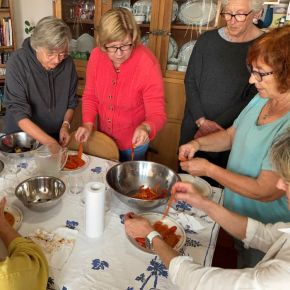 Cittaslow – slow city. Tomato – ripe tasty Roma plum tomatoes. Passata – the classic Italian sauce made to accompany pasta.
All of these elements came together at the latest Cittaslow Goolwa How To session.
A dozen happy Cittaslow members enjoyed a day in the sun, preparing and preserving Tomatoes in the Italian way on Thursday 9th March at Goolwa North.
The morning started early and 130 kg of ripe Romas were washed, blanched and dispatched into bottles prepped with fresh Basil from the Cittaslow Community Garden.
As the day progressed everyone became spattered with the juice of the beautiful tomatoes and shrieks of laughter rose into the air. Aside from a little hard work, it really was a lot of fun.
Led by local member Tony Trimboli and his sister Albina the day was reminiscent of their childhood family gatherings. Cittaslow members were happy to become part of the extended family for the day.
Once the work was done everybody enjoyed the fruits of their labour – a delicious lunch of pasta and sauce made with the freshest of Passata, and a glass of wine.
Another great event hosted by Cittaslow Goolwa.
How To sessions provide an opportunity to learn more, in a hands-on practical way, about food - where it comes from, how it is produced and how to enjoy it. Earlier sessions have featured olives, honey, Goolwa's famous cockles and controversially, the scourge of the river, carp!!
More will be held for Cittaslow Goolwa members.