Cittaslow investigates the Goolwa Distillery.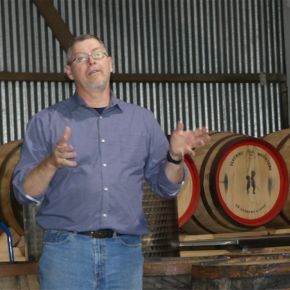 The latest How To ... event conducted by Cittaslow Goolwa was held at the new Fleurieu Distillery at Goolwa on Wednesday the 9th of May. Two dozen Cittaslow Goolwa members attended to hear just how gin and whisky are being made right here in Goolwa. In answer to the obvious question, yes there was certainly some tasting involved.
Gareth Andrews, head distiller, gave a wide-ranging presentation for those present. He explained that while gin, which is also being produced at the distillery, the main game is now whisky which accounts for ninety per cent of production. Although the distillery has been in operation for several years, the name change is quite recent. This is because, unlike beer and even gin, whisky is a long-term process that takes years to come to fruition. The production of spirits in Australia is highly regulated and whisky must mature in wooden casks for at least 2 years.
The distillery began, in 2004, as the Steam Exchange brewery producing a small range of high quality distinctively flavoured craft beers. The 'Steamy' was one of the first three craft breweries in SA but now there are close to 200! Gareth, ahead of the trend with beer, decided that the time was ripe to head in another direction and, while Steam Exchange Beer is still produced, 90 per cent of the output from the historic wharf building is now whisky. Beers produced at the Steam Exchange have won Gareth won 28 national and international beer awards.
Although the distillery has only been in operation for a relatively short time, it has already been successful in competition, not only in Australia but in America. In the 2018 American Distilling Institute Awards the Fleurieu Distillery entered two products – both were successful. The River's End single malt whisky was awarded a Gold Medal, Best in Class and the Trophy, while the Atlantic Crossing won a Silver Medal and was named Best in the International Smoked Whisky Category. In addition, in the 2018 Australian Distilled Spirits Awards, the distillery was awarded a Gold Medal in the Peated Whisky Class.
How To events, exploring local products are held from time to time and are open to all Cittaslow Goolwa members. Details of these sessions and how to become a member are available at www.cittaslowgoolwa.com.au
Photography by: Rod Flintoff