How To Appreciate Alpacas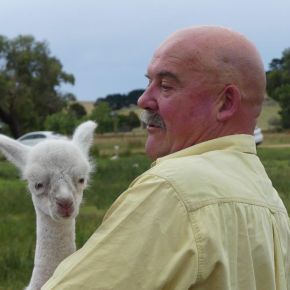 On December 13 Cittaslow Goolwa presented a 'How To...' session for members and the topic under investigation this time was the Alpaca, the friendly attractive creatures that are widely misunderstood and frequently confused with Llamas – they are actually cousins!
The 'How To..' series' is an opportunity for Cittaslow members and guests to get up close with something produced locally, that is maybe intriguing or maybe just something that just needs further investigation.
On the Fleurieu we are lucky to have one of the biggest and most significant Alpaca farms outside of South America which is traditionally THE home of alpacas. Chris Williams, manager of Ambersun alpaca farm at Mount Compass has, with a lot of hard work and expense, built the farm up to be in the top three producers in Australia.
Naturally, in a business that focuses on making the most of alpacas, their wool is highly sought after, not only in high level clothing, but also in carpets and is now being used in doonas.
Ambersun not only breeds and sells alpacas for wool and breeding in Australia and overseas but is developing a market for alpaca meat in some of the top restaurants in Australia. Chris also has his eyes on overseas markets for what is, surprisingly to some, a delicious new meat to Australians.
On the Cittaslow session, the affable Mr Williams led a tour of the well-organised farm, providing plenty of information on what alpaca production is all about and, later in the day, providing an opportunity for visitors to try a variety of cuts of alpaca meat. These ranged from raw sashimi, smoked leg, spicy cured salami, chorizo and hamburger patties. While some found the newness of the tastings a little daunting at first, it wasn't long before everyone was really enjoying the flavours and texture of this new meat and, even, coming back for more.
A marvellous afternoon that will be long remembered. Chris's alpaca meat is available regularly from the Willunga Market and direct from Ambersun. Well worth a try.