How To Make Passata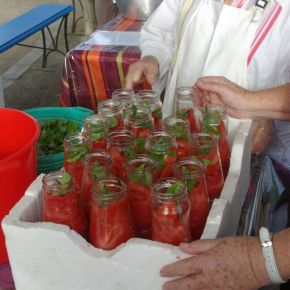 The latest in the regular series of How To sessions conducted by Cittaslow Goolwa focussed on passata, the Italian staple sauce that is a favourite base for so many dishes. The session took place on Good Friday eve (March 29) at the Community Garden on Kessell Road.
Although passata is readily available from various Australian and international makers there is a certain satisfaction coming from a product that you have had a hand in making. This really is the basis for the How To sessions – people skilled and experienced in something that has local aspects, and often is related to food, who pass on what they have learned to others. This time, the experts were Cittaslow member Tony Trimboli, with sister Albina.
There was a lot of hard work involved in readying the 700 ml bottles and then preparing the 140 kg of Roma tomatoes. The tomatoes were sourced from the Good Food Company in Strathalbyn although some of those attending bought along home-grown tomatoes to include in the passata! There were 20 eager 'students' involved and all readily pitched in with the preparation.
A lunch break was a feature – this involved antipasto, pasta, sauce including some of the Romas and a glass of wine. What could be more appropriate!
Cittaslow Goolwa provides a variety of community events in Goolwa and other parts of the Alexandrina Council area. Although most are available to non-members the best way to stay aware of what is being offered is with membership. Full details are at cittaslowgoolwa.com.au