Signal Point STOMP OFF!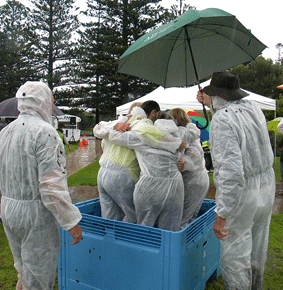 Despite very inclement weather (in fact one of Goolwa's wettest days!), hundreds of people came to cheer on the five teams in the first Signal Point Stomp Off on Friday 18 February 2011. The Mayor's Team was challenged by teams from Cittaslow, Goolwa RSL, Goolwa Rotary and the CFS. The Currency Creek CFS provided a traditional Aussie sausage sizzle while Loose Goose Food Design offered a special Stomp Off menu that included delicious Mulloway Burgers. Ballast Stone supplied some of its locally produced wines. This event was held to celebrate the official opening of the first stage of the new developments at Signal Point in Goolwa's historic wharf precinct. SteamRanger and Oscar W supported the event. Everyone was a winner!
Whilst participants were able to settle into the Signal Point reception area (when not outside stomping on grapes in the rain!) and enjoy the food and wines, others watched via the webcam from other states in Australia and even from the USA!