Smoke Off Festival Sunday 4 November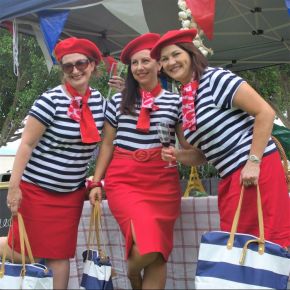 The Festival was held on Sunday 4 November 2018 on the RSL Goolwa lawns.

The Festival included the eleventh annual Smoke Off competition, tastings and sales from major Langhorne Creek wineries, plenty of great food from local food producers and, of course, marvelous music from top local band Matt and the Maniacs.

Wineries involved were Bleasdale, Next Crop, Tagai, Karrawatta, Temple Bruer and Tabal.

The Smoke Off competition attracted a good number of teams this year, up on the last two years, and interest was high among spectators in the bumper crowd. While the focus, as always, was on smoking hams, there was plenty of fish, beef and chicken on display. This event caters to all tastes. The teams competed for prizes and trophies for the best smoked food, as judged by a panel consisting of Professor Barbara Santich, author and lecturer on gastronomy at Adelaide University, Ashley Porter, publisher of Coastlines and Marina Goldsworthy, Manager of Marketing, Langhorne Creek Wine and Grape. This year there was increased competitiveness in the Theme category. This is where teams adopt various themes, set up colourfully decorated marquees and dress in appropriate costumes in support of those themes. Judges for this category were Libby Wall and Erica Harris, both of whom are prominent in the local arts community.

Contrary to the weather forecast, it was a fine, fine day. Mid twenties on the thermometer, no wind to worry about, maybe a little cloudy but the rain forecast for 4.30 eventually arrived at 6.30 well after the day's activities had concluded and the webers were packed away for another time.

The Goolwa Smoke Off Festival, part of an ongoing series of events in the Goolwa Wharf precinct, was presented by Cittaslow Goolwa in conjunction with the Langhorne Creek winemakers and was held at the Garden of Honour, Goolwa RSL. The event was generously supported by the Alexandrina Council, Stratco Goolwa, Shaw Family Vintners, Langhorne Creek Grape and Wine Inc. and several Goolwa eateries.

Proceeds from the day will be donated to the Goolwa CFS, the Currency Creek CFS as well as Cittaslow Goolwa to help ensure that this type of event continues to be presented.