Sustainable Development Event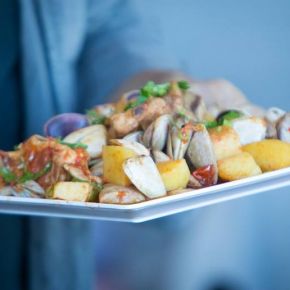 Another hugely successful day in Goolwa!
A video of this event as seen from above is available here and another video that covers the scene at the beach and the luncheon that followed is here.
On Sunday, 30th April, Cittaslow Goolwa and the United Nations Association of Australia, SA Division, presented A Harvest for our Future in support of the UN Sustainable Development Goals.
A marvellous day – 22 degrees, a slight breeze and barely a cloud in the sky.
The day started at 11 am with a crowd of locals and visitors clad in black suits, white shirts and ties harvesting pipis with the Sustainable Fisheries Goolwa PiPico at Goolwa Beach. This was part of a unique installation by notable Australian quasi-surrealist painter and installation artist Andrew Baines. Goolwa PiPiCo has worked with the Marine Stewardship Council to gain their coveted tick of approval for sustainability. Their example, illustrated by the installation, highlights the possibilities for the future in keeping with the UN goals.
A spectacular luncheon followed for the 100 guests in attendance at Signal Point.
Guests included the Governor, His Excellency The Honourable Hiew van Le AC and Mrs Le, Alexandrina Council Mayor Keith Parkes with wife Tracy, former Premier Lynn Arnold, Lidia Moretti Vice President of the United Nations Association of Australia, South Australia Division and Margaret Gardner, President of Cittaslow Goolwa.
The luncheon involved the serving of a marvellous array of dishes, heavily featuring the best of local produce while, in the background, local musicians provided a series of delightful musical interludes.
Cocktails (Gin & tonic made with Goolwa Distillery's Moon River Gin), accompanied by a variety of canapes prepared by Cittaslow chefs and featuring fresh local seafood. Delicious Coorong mullet, Olaf's famous Bombora pipis and a special treat – local carp (yes you read that right) two ways – Thai fish cakes with a Vietnamese influenced dipping sauce and a creamy smoked carp pate with local horseradish.!!!
A wide variety of main courses followed from famed SA chef Cheong Liew and a hand-picked support staff in the kitchen – a lavish paella full of pork, chicken ribs and pipis, squid ink pasta with seafood and finally more pipis, this time with potato and octopus! These delicious dishes were supported by fine wines from a number of Langhorne Creek wineries.
But there was more to come. Desserts? Of course. Delicious hand-made white, dark and truffle chocolates from the Australasian circa 1858 at Goolwa and marvellous Canoli from Andy Clappis of Our Place in Willunga Hill.
All in all, an exceptional day. A great time was had by all. Those involved were exposed to a very relevant message for today from the United Nations and the dedication, organisation skills and enthusiasm of Cittaslow Goolwa volunteers.