Cittaslow surveys Alexandrina Election Candidates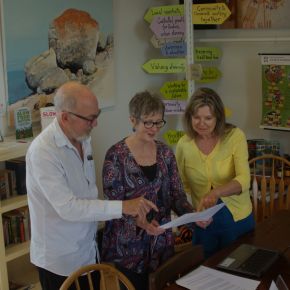 A survey of candidates in the upcoming Alexandrina Council elections shows that recycling in public places is an issue of concern to many prospective members of Alexandrina Council and that more could be done to enable the community to contribute to solutions.
Cittaslow Goolwa, a not-for-profit organisation that aims to show leadership in areas of concern to the local community, including the sustainable management of waste, recently conducted a survey of all candidates for the forthcoming Alexandrina Council election.
Cittaslow Goolwa Secretary Christine Putland said "The issue of recycling is a serious concern for many people in Alexandrina today. In advance of the upcoming local government elections we wanted to know the views of all candidates about recycling in public places and share this information with the electorate. So we canvassed all candidates about their views on recycling in public and their ideas about what needs to be done to improve its management in Alexandrina".
Photo at right shows members of Cittaslow Goolwa management Ken Smith, Christine Putland and Karen Ross discussing the survey responses.

Candidates were asked to respond to two open questions:
1: What strategies regarding recycling in public places would you like to see supported and implemented in the Alexandrina Council area during your first year in the role?
2: What other recycling strategies would you like to see considered in Alexandrina in the future?"
"We were delighted to see that so far 17 of the 27 candidates have responded positively to the opportunity to share their views with the community", Ms Putland reported.
Candidates generally noted the advances already made in Alexandrina, while acknowledging that more is needed, both at the local level as well as participating in wider debates about the logistical challenges in collection and management of recyclable waste. The roles of Council and community in addressing the issues were stressed together with a combination of community education and improved provision and signage of collection bins. Expanding current programs informing the community about services provided, working with schools, partnering with other agencies to share resources and information were all supported. Most candidates also recognised that education alone is not sufficient and that the adoption of national and international standards and best practice in the provision and signage of bins is equally important.
"If the responses to the survey are anything to go by, we can expect to see some practical and achievable developments in the area of recycling in public places in the next year", said Ms Putland.

A full list of each candidate's responses is below or contact admin@cittaslowgoolwa.com.au

A copy of the letter sent to all candidates regarding the survey is available here.

CONTACT: Christine Putland cputland@internode.on.net or on 0418 809 848
Authorised by Ken Smith, Cittaslow Goolwa PO Box 2539 GOOLWA SA 5214

Mayor
Angas Bremer Ward
Nangkita Kuitpo Ward
NO RETURN
Port Elliot Middleton Ward
STRATHALBYN WARD